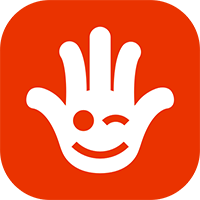 The best new app for sharing location
and moments in your hood !
hiya! is the new local social network!
With its interactive map, this app enables you to locate your friends
and share your best moments by posting some pics to your neighborhood!
Cool and innovative, hiya! is the new way of living new experiences with your best pals and the people around you. Imagine if you could see all that occurs around you and get there when it's time. Install the application, add your friends…
hiya! invites you to the real world that surrounds you! So enter the game and have fun!
• Share in live your location with your pals
• Manage your privacy in the blink of an eye
• Easily chat with your friends
• Stay aware by getting notified of what's happening
Friends are passing through your hood?
You are directly notified of their presence so you will never miss them again!
Stay always tuned to what's happening around you
because hiya! does it for you through notifications!
You can enjoy yourself by creating moments that are automatically shared on a map,
so you leave your mark and inform the community of what's going on!
 hiya!  is also a messenger app! Chat and share easily with your best friends.
 The use of GPS in background task can therefore impact your level of battery.
That's why hiya! is far from consuming thanks to its technology.
 You can easily keep control on your location sharing with an ON/OFF mode.
 Moreover, we keep nothing on our servers: neither your conversations, neither your position, nor even the moments that you shoot! In short… nothing!
Our goal is just to get you back to essential: a place, a good atmosphere, your good fellas!
Because, you are not only a user for us… You are REAL good person!
So welcome back to the real world ;)